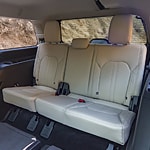 As one of the premier full-size SUVs on the market, the new Ford Expedition has interior features that are designed to please the finickiest of consumers. Discover the appeal of the new Expedition and why driving it can be the most comfortable and rewarding experience.
It comes outfitted with a large two-panel sunroof that spans the front and middle row of seats. You can let in plenty of fresh air and sunshine while you are on the road. The sunroof offers panoramic views of the skies above you.
It also it also outfitted with premium leather upholstery and has tight stitching around the edges for added durability. You can relax and drive or ride in comfort in the new Expedition's bucket seating. The seats also come with power adjustments so that you can adjust your seat to your liking. Also find a center console with a lid and cup holders.