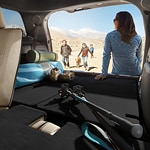 The 2020 Ford Explorer is back in the headlines, and it has garnered the attention of the public in so many ways. This 21st-century automobile can seat up to seven people, has advanced technologies, and is laced in premium materials for its cabin. Consumers can opt from multiple trim levels to better meet your needs.
The 2020 Ford Explorer is primed to perform at the highest level. The brand's ST trim comes equipped with a 400-horsepower engine. This 3.5-liter engine will produce a whopping 415 pound-feet of torque. In addition to that, Ford offers other engine types, such as a 318-horsepower engine that's hybrid based. Of course, the 2020 Explorer will utilize the strengths of twin-turbocharging and EcoBoost technologies. On top of that, this SUV has Sidewind Stabilization as well as Post-Collision Braking.
Step your game up by test driving the 2020 Ford Explorer at our dealership before it's too late.